All New Engine, X-Processor Pro.
The high-density 2,764k-dot viewfinder lets you confidently frame your shots, even in bright outdoor environments.

The black Panasonic Lumix DMC-LX100 Digital Camera is an advanced Four Thirds format point-and-shoot with manual controls designed to enable and inspire creativity. It features a large multi-aspect 4/3" type MOS sensor to produce 12.8MP still images (4:3) and 4K Ultra HD video at 30 and 24 fps.
You also have the ability to extract high-resolution 8MP images from the 4K video, letting you capture entire scenes without missing a shot.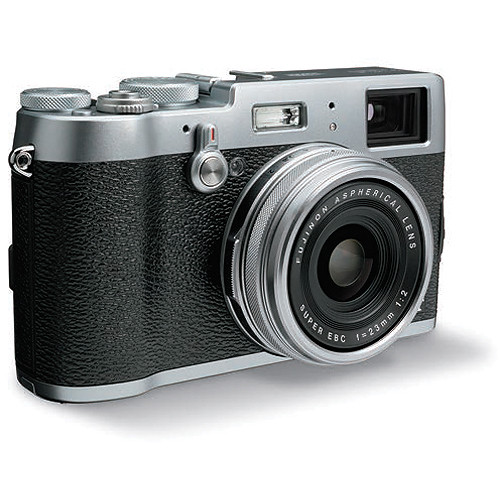 4/3" Type MOS Sensor




The LX100 features a 4/3"-sized MOS image sensor - similar in size to the sensors found in Panasonic's interchangeable lens mirrorless Micro Four Thirds cameras. The high-sensitivity sensor features a multi-aspect sensor with 16.8MP total resolution, enabling you to use more height or width of the sensor, depending on the aspect ratio you're shooting in. Additionally, by maintaining an effective resolution of 12.8MP (in 4:3 mode), the volume of light is controlled to improve the S/N ratio for clearer, detailed imaged with reduced noise, even when shooting at ISO 25600.
Multiple Aspect Ratios




To take advantage of the multi-aspect sensor, a switch on the lens barrel lets you quickly switch between 4:3, 3:2, or 16:9 aspect ratios without having to scroll through menus.
Manual Controls




The LX100 is designed to inspire creativity by offering a full range of manual controls and advanced imaging features. Dedicated lens rings give you intuitive control of aperture, zoom, while dials on the top of the camera give you easy access to shutter speed and exposure compensation.
24-75mm Leica DC Vario-Summilux f/1.7-2.8 Lens




The built-in Leica DC Vario-Summilux lens provides a 35mm-equivalent focal length range of 24-75mm, covering wide-angle to portrait length perspectives to suit working in a wide variety of shooting conditions. An f/1.7-2.8 maximum aperture benefits working in low light conditions throughout the entire zoom range and enables greater control over focus placement for shallow depth of field imagery. Five aspherical elements, including two ED lenses, are incorporated into the lens design to minimize chromatic aberrations throughout the zoom range to benefit creating sharp, clear imagery.
Light Speed AF with DFD Technology




Light Speed AF, a contrast-detection AF system, uses Depth from Defocus technology to greatly reduce focus time. It instantly calculates distance to subject by evaluating two separate images with different sharpness levels. The result is a high-speed AF in approximately 0.14 seconds.