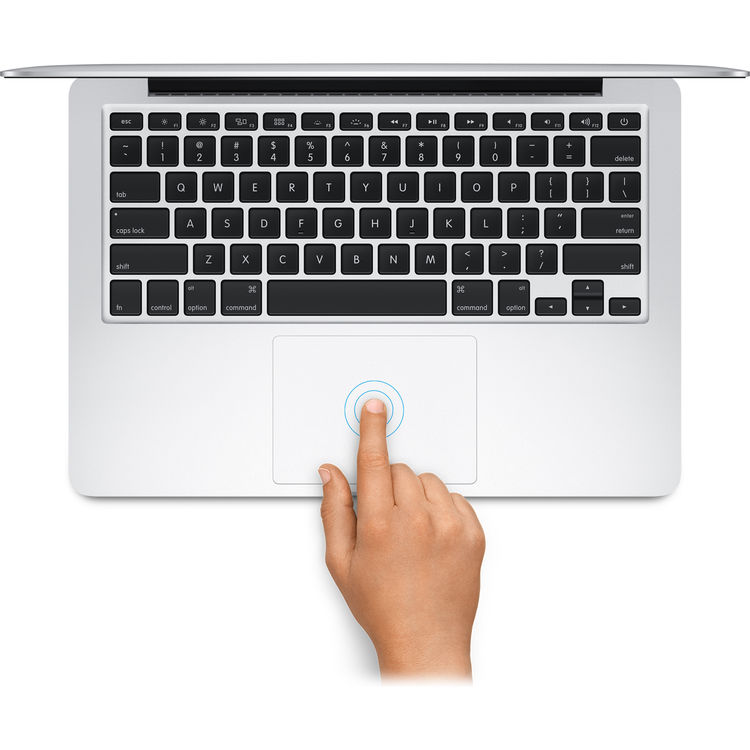 MacBook Pro Notebook Computer with Retina Display & Force Touch Trackpad
A powerful notebook computer with an innovative, ultrathin, ultraportable aluminum unibody design.
It is loaded with advanced power management features and an integrated lithium polymer battery, which work together to provide up to 9 hours of wireless web browsing.
You'll be able to output to 2 external displays at up to 2560 x 1600 via Thunderbolt 2 (Mini DisplayPort). Any Mini DisplayPort-compatible display will plug in without the need for an adapter. This MacBook Pro also adds an HDMI port so HDMI-compliant devices, particularly HDTVs, are now natively supported as well. Visuals are handled by integrated Intel Iris Pro graphics while graphics-intensive applications take advantage of the dedicated AMD Radeon R9 M370X graphics card with 2GB of GDDR5 discrete memory.
The trackpad also fully supports multi-touch gestures. You can tap the trackpad with one finger to click, tap with two fingers to right click, scroll through documents using two fingers, pinch to zoom, navigate through Safari or Photos with three-finger left and right swipes or use two fingers to rotate a photo or PDF.
The 64-bit Mac OS X features Time Machine backup, which automatically backs up system data to an external hard drive. It also features intuitive Cover Flow navigation, the powerful Spotlight search tool and Quick Look document preview. You'll be able to use Boot Camp to run Windows on your Mac, if needed.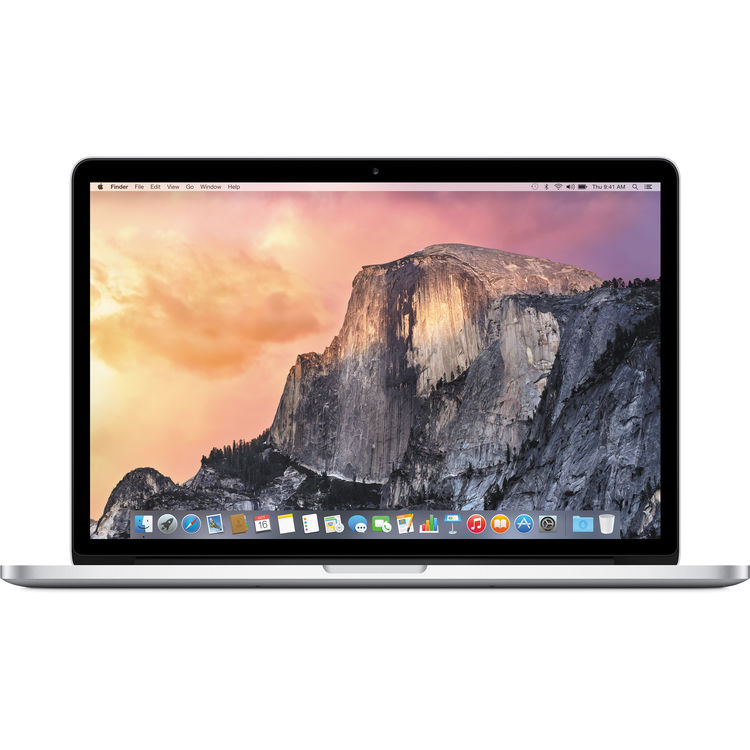 Features

The widescreen, LED-backlit IPS screen has a glossy finish and a native resolution of 2880 x 1800. With 220 pixels per inch, this MacBook Pro has a pixel count of over 5 million.
Force Touch Trackpad




The Force Touch trackpad takes all the capabilities of Multi-Touch and adds force sensors that detect subtle differences in the amount of downward pressure you apply. This lets you have a deeper connection to your content, bringing more functionality right to your fingertip. It also introduces haptic feedback to MacBook Pro - allowing you not just to see what's happening on the screen, but to feel it. With Multi-Touch in OS X, you can use realistic gestures like swiping or pinching to switch between apps, navigate your content, and get the most out of your desktop space.
Retina Display

The 15.4" display of this MacBook Pro features over 5 million pixels. The pixel density is so high your eyes won't be able to discern individual pixels. Now with a 2880 x 1800 native resolution, you can see more of your high-resolution images onscreen with pixel-for-pixel accuracy. The Retina display also reduces glare while maintaining incredible color and quality. In fact, it has a 29 percent higher contrast ratio than a standard MacBook Pro display. IPS technology gives you a wide, 178-degree view of everything on the screen, so you'll see the difference at practically any angle.
Quad-Core 4th-Gen Crystalwell Intel Core i7 Performance

The 4th-gen Crystalwell Intel Core i7 processor with a state-of-the-art 22-nanometer single-die microarchitecture in this MacBook Pro provides fast quad-core performance. Intel Hyper-Threading technology allows two threads to run simultaneously on each core. The quad cores can run at a stock speed of 2.5 GHz. The processor can be overclocked up to 3.7 GHz, thanks to Intel Turbo Boost 2.0 technology. With a 6MB L3 cache and 16GB of onboard 1600 MHz DDR3L RAM memory, this MacBook Pro can run professional applications like Aperture and Final Cut Pro with ease.
AMD Radeon R9 M370X Graphics (2GB GDDR5)

The MacBook Pro with Retina Display features Iris Pro Graphics with 128MB of embedded memory, which accelerates demanding graphics tasks by acting as an ultrafast cache. For even more graphical performance, this MacBook Pro with Retina Display combines the power of Iris Pro Graphics with the AMD Radeon R9 M370X. Thanks to 2GB of GDDR5 memory, you'll get high performance when playing high-resolution games, editing video in Final Cut Pro X, or rendering images in pro graphics applications.