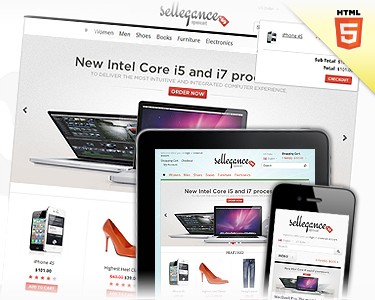 UPDATE

Sellegance 1.4.3.1

This update is to fix the alignment issues when there are more than 12 items per page on category view. If your products don't have alignment problems, you don't need to update.
Fixed products alignment of category page
Fixed issues on Opera Mini
Minor CSS fixes
Sellegance 1.4.3 for OpenCart
Important changes to improve compatibility with other extensions have been made.
List of changes:
Added support for large desktop size (>1200px) Minimize the empty space on large screens with this option to enlarge your site. All the other resolutions (normal desktop, tablet, mobile) work as usual.
Added Camera slider script A new script for featured slideshow
Added controls for Slideshow speed Slide and transition speed can be controlled from the admin panel
Added related products module You can place it on the sidebar or bottom position
Added more font options Now it's possible to select the font size and preview the changes!
Added option to display 3 or 4 products on each row 
Added option to change from tabs to accordion on product page For a more compact appearance you can choose accordion, this will help on mobiles too
Added more controls for product image zoom Select position right or inside (always inside on mobiles)
Added field to embed custom JavaScript code Helpful for some users who need to add 3rd party scripts, like a cookie policy acceptance
Added option to display a select box menu on mobiles Select between the original Boostrap mobile menu or a select box if you have dozens of menus
Added Instagram profile icon A new must have
Payment methods templates removed to use the default ones This will make updates easier (more details below)
Bootstrap Framework updated to 2.2.1
Subcategory thumbnails vqmod move to Additional Extensions Many people don't like them by default, just copy the extension to vqmod/xml if you need it
Fixed problem with vertical scroll on carousels Previously, on mobiles it was difficult to scroll page if you touch over the carousels. Fixed
Hide Wishlist and Compare options on the admin panel instead of vqmod An easier CSS solution
Updated classes for buttons (.btn to .button) to improve compatibility with some extensions Buttons from additional extension will be displayed with the same design
CSS fixes
How to update
Get the new files from your account on Themeforest

Important

Delete catalog/view/theme/sellegance/template/payment folder
If you are using bootstrap pagination, remove wishlist and remove comparison extensions delete those files from vqmod/xml
Upload the new files overwriting the old ones
Go to Sellegance Theme Options module and save the new options
Clear your vQmod cache (delete files in vqmod/vqcache)
That's it
Questions?
The update process should be smooth but if get any issues contact me through my profile page on Themeforest.
Still don't have Sellegance theme?