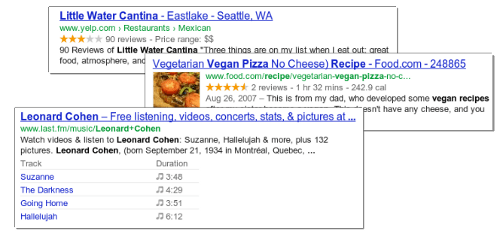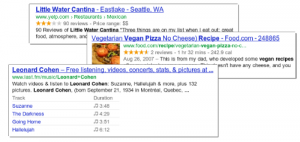 Product rich snippets is to provide users with additional information about a specific product, such as the product's price and reviewer(s) ratings and commentary.
Attract potential buyers while they are searching for items to buy on Google.
Submit your product listings for free.
Control your product information. You can maintain the accuracy and freshness of your product information, so your customers find the relevant, current items they're looking for.
This is the adaptation of the popular extension "@tik" Google rich snippets 
Installation
To add rich snippets to your site:
1) Download the original extension http://www.opencart.com/index.php?route=extension/extension/info&extension_id=6485
2) Upload only the first file z-google-rich-snippets-1.xml to your server
3) Unzip and upload the file for your theme:
z-google-rich-snippets-2_Fortuna.xml version 1.2+
z-google-rich-snippets-2_Sellegance.xml version 1.4.3+
That's all you need.
Test
You can check your site with this tool http://www.google.com/webmasters/tools/richsnippets